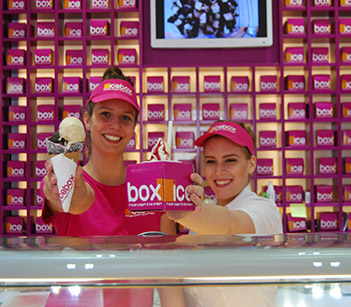 The philosophy of Icebox frozen yogurt & ice cream is simple. Find the best ingrediens, make even better icecream and frozen yogurt, and put it in a box.
We are all different, distinctive, special, and there is no universal favourite taste.
Here, you have the oportunity to make your favourite combination, becaouse Icebox is brand which cares about creativity and specialty.
We offer you big selection of icecream, toppings, fresh fruit, favourite candies, and you can experiment with your senses, till you get "must have" combination.
We can create together, your every suggestion is welcome!
From the first day we guarantee you fresh product, with the best quality, which we make with a lot of skills and love.
Our chiefs were learning from the best ones, Mec3 and Pregel. Our team is young, creative, full of positive energy, and thats why our brand is recognized, and our products can follow your energy, trends, and they change as you change.
We offer you plain and unusual flavours. For you who can not, or you do not want to enjoy in a treat without restrictions, we offer you a lot of icecreams 100% fruit, without milk, sugar, or gluten free.
Your smile is our biggest reward, it is emotion of the best treat.